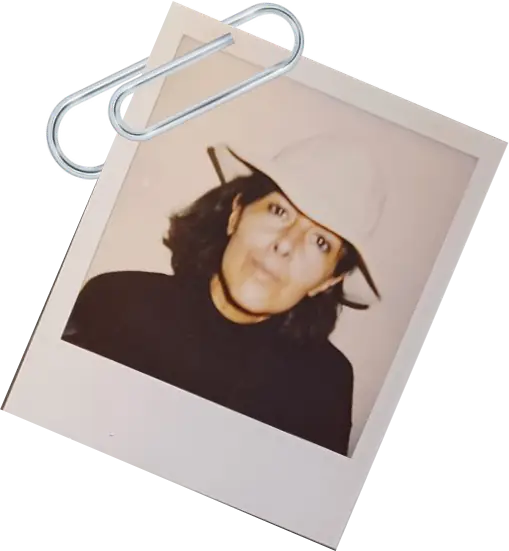 • Biography •
An Interview
Who are you?
A recipient and, occasionally, a transmitter of the sensitivity "dimension".
Why do you paint?
As far as I am concerned, painting , creation, is a way to channel and to show that sensitivity. And, besides, it makes me happy.
When did you discover that you had art inside yourself?
When I realized, as a child, that anything may be different, and sometimes better, if you put some creativity into it.
What do you feel when you stand in front of a canvas?
I start my perception radar to feel the possible path or paths, which are already there implicitly. I look for the painting which is already there and the way to materialize it.
How did the idea arise to use iron and its oxidation which are a feature of your paintings?
The balcony railing in my parents' home was of wrought iron. It stopped me from falling into the void. It was strong but at the same time it could be weak because of corrosion. And it had special features, it could be cold, or hot to the point of burning, it had taste and colour. Besides, iron created spaces. It had, and it has, an absolute charm.
In your C.V. there are blank years. Why is that so?
As far as I am concerned, there is an active and a passive creation. I never stop creating.
How do you explain your liking for bullfighting? Your way of seeing and interpreting bullfighting has been a complete novelty in the art. You even won the 1st prize of painting El Toro Bravo, of Salamana.
My father's family is from a land of wild bulls. My father was a fan of bullfighting. He spoke about bulls with some of his friends, and in my childhood I used to glance at bullfighting magazines, and heard how they defended or criticised some bullfighters of the time. The photographs, the pictures, the aesthetics of bullfighting aroused in me a vision that later I materialized in the series "Tauromías. Bulls as I see them."
Carrer
1977
Graduated in Journalism by the Universidad Autónoma of Barcelona.
1987
Graduated in Fine Arts by the Universidad Central of Barcelona.
1994
Years of self-taught formation in arts research and creation. She discovers iron as an instrument for pictorial expression, and she uses it through several techniques on different supports, whether canvas, or wood or iron itself.
EXHIBITIONS
1995
May. First exhibition in Seville, Winterthur Showroom. She submits her first series "Tauromías. (Bullfighting as I see it)".
September. Salamanca. Palacio de los Bandos.
Fist painting prize "El toro bravo" (Wild Bull) for her work. "Templar y mandar". Junta de Castilla y León.
1996
April. Girona. Caixa de Pensions showroom. Painting and sculpture.
May. Madrid. Showroom at Hotel Tryp Victoria.
October. Lérida. Cultural Centre of Fundació La Caixa.
1997
May. Fraga. Palacio Montcada.
May. Figueras. Museu de l'Empordà.
June. Madrid. Blasco de Garay showroom. Caja de Madrid.
June. Huesca. Ibercaja showroom.
September. Logroño. Ibercaja showroom.
September. Barcelona. Marc 3 showroom. Work on paper and sculpture.
October. Guadalajara. Ibercaja showroom.
November. Saragossa. Ibercaja showroom.
December. Valencia. Ibercaja showroom.
1998
April. Barcelona. María José Castellví Gallery. Presentation of the series "Ferropatía".
May. Barcelona. Feria Art Expo. María José Castellví Gallery.
1999
January. Barcelona. Marc 3 showroom. Work on paper.
May. Valladolid. Caja Duero showroom.
June Palencia. Caja Duero showroom.
July. Zamora. Caja Duero showroom.
November. Casavellí (Girona). Niebla Foundation.
November. Salamanca. San Eloy showrooms. "Bullfighting in Spanish painting.
Group show with works by Picasso, Dalí, Barceló, Millares, Durancamps, Grau Sala, Zuloaga, and others.
December. Casavells (Girona). Homage to Rafael Alberti.
Group show together with works by Tàpies, Guinovart, Frederic Amat, Arranz Bravo, Hernández Pijoan, Robert Llimós, Ràfols Casamada, Mariscal, and others.
2000
January-July. Homage to Rafael Alberti. Travelling group show: Puigcerdà (Museo Cerdá), Olot (La Carbonera showroom), Viladrau (Centre de la Natura), Figueres (Museu de l'Empurdà) and Girona (Fontana d'Or).
February. Salamanca. Palacio de Garcigrande, Caja Duero.
March. Barcelona. Marc 3 showroom. Work on paper.
June. Madrid. Marlborough Art Gallery. Propios y Extraños.
September. Lisbon. Sala do Risco. Town Hall.
Artist picked out by "Lisboa Cultural".
November. Barcelona. Pueblo Español. "New art, new millennium". Group exhibition. Spanish network of struggle against poverty.
November. A Coruña. Work chosen for the exhibition of the Real Academia Gallega de Bellas Artes. Third Autumn Exhibition.
December. Barcelona. Trama showroom. Display of the new series "Ferropatía Dos".
2001
Creating in her workshop.
2002
Creating in her workshop.
July. Group exhibition in Galeria Arcadi Calzada (Olot).
2004-2021
Years of research in arts creation in her workshops at Begues (Barcelona) and Yecla de Yeltes (Salamanca). The successive economic and sanitary crises in those years have slumped the arts market in Spain and have been years of inner withdrawal and arts production with great marketing difficulties. Creation and beginning of the artist's web, where she presents a show of her main works and a number of opinions by prominent art critics. This is the starting point of Marcos-González return to the art market.
Works in public collections
Museu Art 2000 (Torroella de Montgrí)
Museo de Arte Taurino de Salamanca
Colección Banco Urquijo
Colección Testimonio de "La Caixa"
Fundación Banco Santander
Fundación Niebla
Fundación Banc Sabadell
Colección Caja Duero
Colección Ibercaja
Colección Caixa d´Estalvis del Penedés.
Colección Bankpyme
Colección AC Hoteles
Colección Caja de Ahorros del Mediterráneo
Colección Agbar
Colección Consorci de la Zona Franca
Colección Uriach y otras